Research Designated Program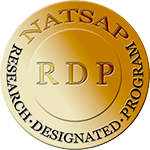 Alpine Academy recognizes the importance of research and evidence being a driving factor behind the treatment process.  We are privileged to be a part of the NATSAP (National Association of Therapeutic Schools and Programs) research process.
Alpine is a proud to be recognized by the Utah Best of State organization as the best youth treatment center in the State of Utah.  More information about the Best of State Awards can be found here.