Intensive therapeutic services are incorporated in every part of Alpine Academy. These services begin the day that a student is admitted. Through thoughtful, individualized application of the Teaching-Family Model coupled with intensive clinical work, our students are able to make significant changes, both in their outward behavior patterns and more importantly, in their inner thought patterns and processes. Every aspect of the program, from facilities to recreation, is carefully designed to create an intensive yet nurturing therapeutic experience.
Family work is the bridge between Alpine Academy and home. This is the most important work that a student and their family will do while at Alpine. Research shows that the key predictor of success for a student after leaving Alpine Academy is their parents' willingness and ability to make personal, parenting, and family system changes. The treatment team's primary job is to support your family through this change process. One of the many ways in which we do this is through family therapy.
Family therapy sessions occur weekly with the primary therapist. These sessions typically happen via the phone or video conference, and occasionally happen in person, when families come out for visits. The purpose of family therapy is to help family members improve communication and resolve conflicts. Family therapy sessions also help to foster deeper family connections.
Both individual and family therapy sessions are built into a student's school schedule. This allows for a student to fully participate in therapy while not missing any academic work. This system also creates consistency and predictability for the parents, so they may arrange their schedule accordingly and participate in each session.
An individualized treatment plan is developed for each student, based on their specific needs, strengths, and personal goals. This trauma-informed, results-driven, strength-based approach to therapy helps to accelerate the rate of growth and learning.
Alpine Academy offers individual and group sessions in equine-assisted psychotherapy, utilizing an Eagala and EAP-certified recreation specialist or another horse person and your child's primary therapist as facilitators. The frequency of this intervention technique is determined by the primary therapist.
These sessions drive insight toward change in a non-threatening environment. The students learn more about themselves, their family dynamics, and the world around them by working with the horses. The feedback the student receives from their experience with the horses creates a powerful medium for drawing conclusions from situations in their everyday life.
Group Therapy
Group therapy is a very powerful therapeutic tool for adolescents. Therapists are trained to run both process and content oriented groups, which both act as powerful mechanisms of change. We intentionally create groups that include students who've experienced success in their treatment to serve as peer leaders. This creates a positive peer culture. Adolescents are especially vulnerable to this area of work due to their need for peer acceptance.
At Alpine Academy, each student will participate in 2-3 group therapy sessions each week. All group therapy sessions are conducted by a licensed therapist. 
Exploring Relationships Group
This powerful psychodynamic group is used to explore the significance of relationships as well as the vulnerability that comes from being in relationships. The group is attended by all of the students in the specific treatment home. During the group, the students will be given the opportunity to learn how to give and receive feedback from each other. The group encourages students who are at different stages in their treatment process to assist one another in gaining insights and making life-long changes. It's a great way to focus on how healthy peer relationships are formed with trust and honesty.
Specialty Groups
Many different specialty groups are offered throughout the year. These groups are typically 12 week courses and based on the needs of currently-enrolled students. These specialty groups may include the following:
Self-esteem
Trauma
DBT Skills
Social Media & Technology
Drug & Alcohol
Mindfulness
Cultural & Ethnical Diversity
Healthy Sexuality
The Sexualization of Women
LGBTQ+
Healthy Transitions
Grief & Loss
Social skills
Developing healthy boundaries
Emotional regulation
Clinical Caseload Group
This is an open and evolving group that has the flexibility to adjust to adjust to the students needs at any given time. The therapist is involved in each of the students in this group and is aware of their struggles. This allows the therapist to elicit shared life experiences.
For example: If one of our therapists is working with a student who lost a family member, and the therapist knew of another student who has also experienced loss, they would would draw a parallel between the shared life experiences to create connection and universality.
Measurement of Overall Improvement
Youth Outcome Questionnaire (Y-OQ)
Parents of Alpine Academy students take an internationally respected, scientifically validated survey when their son or daughter begins treatment; they take the same survey when their child leaves. Comparison of these two time-points confirm statistically significant behavior change between intake and discharge.
Results show an average 52 point drop in the overall Youth Outcome Questionnaire (Y-0Q) score, which tracks general behavioral dysfunction (over 4 times the benchmark for a clinically significant change).
Measurement of Other Clinical Improvements
There is also statistically significant improvement evident across several clinical domains. Results show: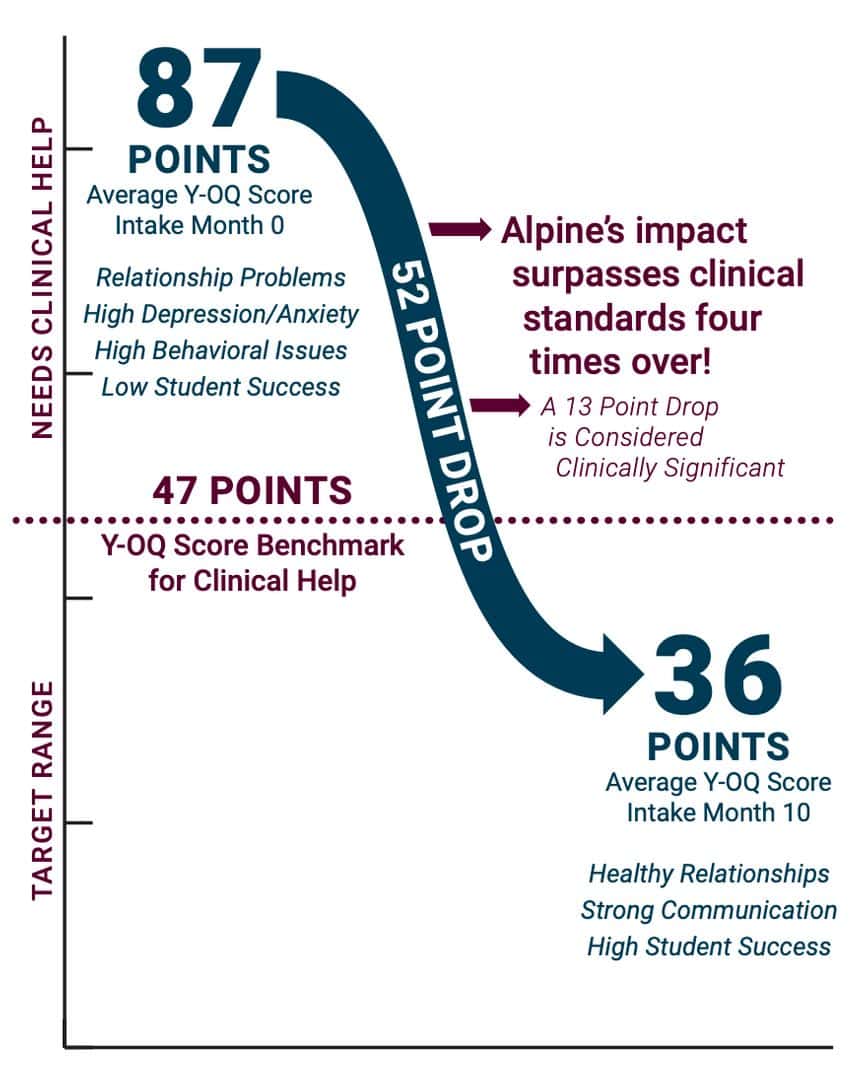 Y-OQ Average Score Showing Change in a Student From Their First Day to Their Last Day at Alpine Academy
20
Point Decrease
In Depression/Anxiety
12
Point Decrease
In Attention Problems
11
Point Decrease
In Relationship Problems
8
Point Decrease
In Aggression
Students Noticing Change
Alpine Academy students also report statistically significant, reliable change from intake to discharge. Results show:
26
Point Decrease
In Total Scores of Behavioral Stress
9
Point Decrease
In Depression/Anxiety